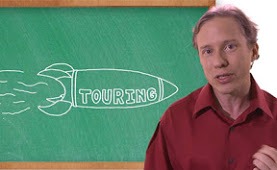 Intro to Computer Science
From UDACITY Web Site you can advance your career through project based online classes in just three steps:
1-      Take online computer science courses.
2-      Build cool projects to show case your skills.
3-      Earn certificated recognized by industry.
You can find courses for beginner levels, intermediate levels, and also an advanced levels.
You will learn the skills required to become a front-end engineer, whether you're trying to build your first Website using the advance levels .
UDACITY featured courses in:
1-      Programming foundations with python.
2-      Intro to Data Science.
3-      Web Development
4-      Intro to computer science.
Intro to Computer Science
You can learn how to build a Search Engine and you will learn key concepts in computer science and how to program in Python while building a search engine.
Computer science is a discipline that spans theory and practice. It requires thinking both in abstract terms and in concrete terms. The practical side of computing can be seen everywhere. Nowadays, practically everyone is a computer user, and many people are even computer programmers.
 Getting computers to do what you want them to do requires intensive hands-on experience. But computer science can be seen on a higher level, as a science of problem solving. Computer scientists must be adept at modeling and analyzing problems.
Computer science also has strong connections to other disciplines. Many problems in science, engineering, health care, business, and other areas can be solved effectively with computers, but finding a solution requires both computer science expertise and knowledge of the particular application domain. Thus, computer scientists often become proficient in other subjects.
Computer science has a wide range of specialties. These include computer architecture, software systems, and graphics.
Computer Science is practiced by mathematicians, scientists and engineers. Mathematics, the origins of Computer Science, provides reason and logic.
Finally, and most importantly, computer scientists are computer scientists because it is fun. (Not to mention lucrative career opportunities!)
Computer science is a discipline that involves the understanding and design of computers and computational processes.
 David Evans  will explain to you this course from the beginner level to the advance level.
it will last approximately two weeks, 6hr/wk. you can access to course video and exercises then you can view and manage your progress, after you finish the course you will be able to create and analyze a social network.
If you want to watch this course enter this site: https://www.udacity.com/course/cs101
We at the University of Almnh to provide you with e-Learning Search is a comprehensive guide to learn design and programming Web sites from scratch even professionalism through our website.
If you wish to purchase this research, select and click on this link: https://khamsat.com/training/learn-programming/92914
And if you are having difficulty Order, please feel free to enter on this site