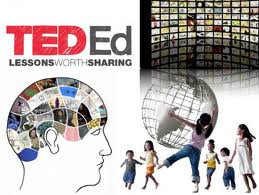 Pain in Brain
TED Ed site believes passionately that ideas have the power to change attitudes, lives, and ultimately, the world.
This underlying philosophy is the driving force behind all of TED's endeavors, including the TED Conferences, TEDx, TED Books, the TED Fellows Program, and the TED Open Translation Project.
With this philosophy in mind, and with the intention of supporting teachers and sparking the curiosity of learners around the world, TED-Ed is the newest of TED's initiatives.
There is many lessons you can watch:
Pain in Brain
Everyone experiences pain — but why do some people react to the same painful stimulus in different ways? And what exactly is pain, anyway? Karen D. Davis walks you through your brain on pain, illuminating why the "pain experience" differs from person to person.
How can you hurt from head to toe?
pain control system in the skin, spinal cord, and brain of fibromyalgia patients is overloaded, offering a reason for why you ache all over. In particular, immune cells that generally do not cause pain contribute to the flu-like fibro symptoms that make your whole body hurt.
Alterations in the way the central nervous system (brain and spinal cord) works are believed to be a major cause of your pain. The immune cells surrounding the nerve endings in your skin appear to be contributing to your pain as well.
In order for you to actually feel pain, transmissions from your skin, muscles and other tissues has to reach a level of consciousness in your brain. Otherwise, all sensations, including light touch, would hurt. That's where your spinal cord comes in handy. The cord's role is to filter out the less serious nerve signals traveling from your tissues to your brain and from your brain out to your tissues. In essence, your spinal cord works like a pain filter.
How do ballooned Schwann cells impact your pain? They secrete pain-promoting cytokines that irritate nearby nerve fibers. The irritated nerve fibers in the skin then start relaying signals back to your spinal cord, saying, "Ouch … help me out!" But the cord fails to filter the signals and the brain shoots more transmissions back to the tissues. This process leaves you with painful skin, even though it looks normal. The same situation likely occurs in your muscles to make them ache.
If you want to watch this lesson enter this site: http://ed.ted.com/lessons/how-does-your-brain-respond-to-pain-karen-d-davis
We at the University of Almnh  provided to you with e-Learning courses at our Web site: http://www.almnh.com
And  you can join us as a Writer when you enter this site:
http://www.almnh.com/almnh_login