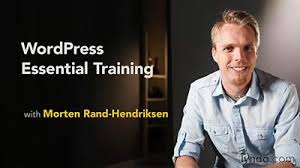 WordPress Training
What is WordPress
1-       A blogging Application.
2-       A content Management System (CMS).
3-       A Web Publishing tool.
WordPress is what ever you want it to be!, it's a good place to start, it's simple and easy to use.
 You have to install word press application first, then you have to choose your language, then you can access to your website to start creating post.
WordPress powers millions of blogs and websites. Learn how to create your own with this powerful publishing platform. Author Morten Rand-Hendriksen will help you to get the most out of the self-hosted version of WordPress and create feature-rich blogs and websites. He will explain to you how to create and publish posts and pages; and extend WordPress even further with plugins. And how to get more readers with social media sharing and comments, and adjust the settings that keep your site safe and secure, and how to be updating with your site.
WordPress Training includes
تذكر أنه :
يمكنك أن تعمل على موقع خمسات ، وغيرها من المواقع الآخرى وتربح آلاف الدولارات شهرياً.
1-       What is WordPress?
2-       How to Install and run your WordPress Application.
3-       Show you how publishing posts and pages
4-       How to use pages templates, and if you want to insert images, videos.
5-       How to edit posts, and if you want to change themes.
6-       How to add other users, and securing your WordPress site.
If you want to watch this WordPress Training click on this link:
http://www.lynda.com/WordPress-tutorials/WordPress-Essential-Training/154417-2.html
If you interested in the site that providing to you more than 2900 course anytime, anywhere with video instruction from industry experts, you can login from here:
http://www.lynda.com/user/login/modal
Lynda site, providing for you 10 days free trial to access to their site, or you can be a member with just 25 $ per month – premium membership- to access to the courses inside, and downloading exercises files that you prefer such as:
1-      3D and Animation.
2-      Audio and Music.
3-      Business.
4-      CAD.
5-      Design.
6-      Developer.
7-      Education.
8-      IT.
9-      Photography.
Lynda membership including unlimited access to the library of video courses
Here if you want to get started:
http://www.lynda.com/plans?btn=supbtncl_categorypagev1
we are Almnh, provide to you all the free courses on line, join us and be a member or subscribe your E-mail to send you all the new post just click here: http://www.almnh.com/almnh_login
تذكر أنه :
يمكنك أن تعمل على موقع خمسات ، وغيرها من المواقع الآخرى وتربح آلاف الدولارات شهرياً.