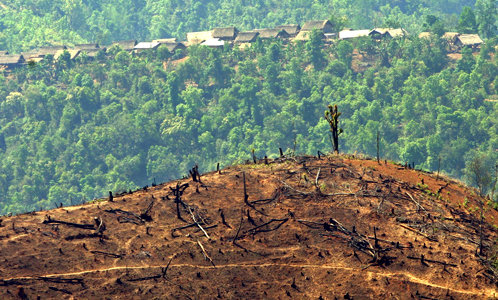 Deforestation has now been defined as conversion of forest land to waste lands on this basis about 0.5 percent of remaining forest disappear each year ,other forests are suffering degradation (Longman and Jenik,1978).
Anumber of alternatives has been suggested by Davidson(1985) to diminish the loss of forests .More careful logging sustainable utilization ,more out that the possibilities of sustainable exploitation of intact to protect them and to exploit secondary forests instead.
Beside means of better management ,the reduction of destruction forests by planted trees around buildings , along canals , shelter belts ,around together with crops of fields (Agroforestry), on sand dunes ,water sheds marginal lands (eg poor soil) , in abandoned mechanized farming areas and in village wood lots(Kamil and Vink,1984).
Farmers ,charcoal producers, urban consumers and the government all play rules in deforestation in Africa , while each of these factors can be expected to adopt adifferent perspective on deforestation ,non of them would be expected to view things from perspective of social or environmental well being (Hill,1987).
The risk which result of deforestation include drought which kill human and animals and change biodiversity ,other risk is the reduction of raw materials beside the risk of floods ,reduction of productivity .Recently the world bank has made aforestry sector review but this is restricted to official use
Apart from reducing destruction of forests by means of better management ,re afforestation is also essential(Boo,1990).
I think to avoid deforestation we must make co operation between people and forestry department ,also by increasing plant cover ,agro forestry, elimination of live stock from forest resources ,reduction from use of wood as asource of energy , reduction of cultivation activities which may lead to destroying of trees , awareness to the people and farmers ,making punishment for those who cut trees and sustainable use of forest resources by better management .