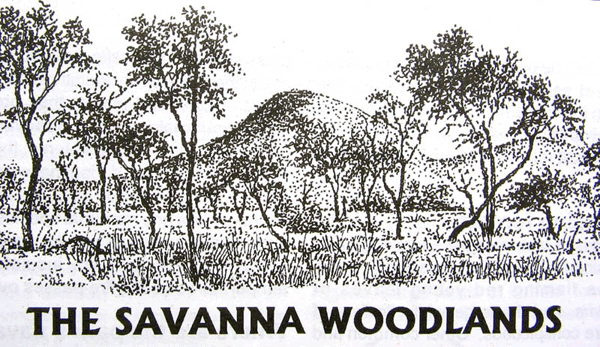 Horrison and Jackson define wood land savanna as (any mix type of vegetation composed of grass with pushes and or trees in determined by the freguency and intensity of fires).This type of vegetation is characteristic of the dryish tropics with amansoon rain fall confined to afew months followed by long hot dry season .
The following is summary of horrison and Jackson description of the wood land savanna and it is sub divisions:
The trees of the low rain fall wood land savanna in the drier parts are nearly all thorn trees , they are Acacia species with some thorn bushes and shrabs including thicket of Acacia Mellifera broad leaved deciduous trees become predominant in the wetter parts ,but there is not as much variety of species as in the high rain fall wood land savanna area.
There are more annual grasses than perennials and the perennials seldom attain the height and coarspness of the high rain fall wood land savanna grasses .
The low rain fall wood land savanna is divided in to
Estabilized sand dunes or gauzes of the west each soil type gives rise to specific types of vegetation .The clay area is called the low rain fall wood land savanna on clay of ten occur in separate patches with each patch dominated by single grass almost to the Marked changes from one patch to another take place with no apparent reason .
Acacia Mellifera thickets and the drier parts of Acacia Seyal
Balanites savanna alternate in time and space with grass lands area in grass land Acacia cycle.